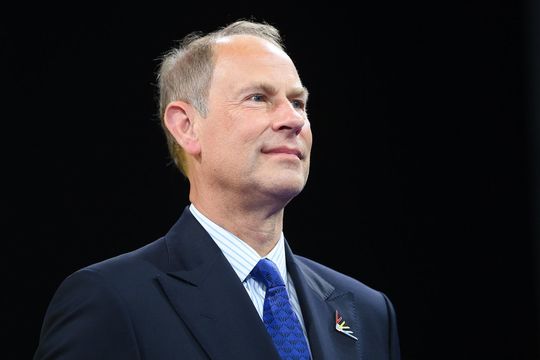 Soon to be coronated King Charles bestowed Queen Elizabeth II's youngest son, his brother with the honor of the title the Duke of Edinburgh, one of the highest-ranking titles in Britain and only given to those close to the monarch as a sign of favor.
King Charles has bestowed his younger brother Prince Edward, the Earl of Wessex, with their father Prince Philip's former title, The Duke of Edinburgh.
The Duke of Edinburgh is a prestigious British royal title that has been held by members of the royal family for centuries. It is associated with a number of charitable causes and is often seen as a sign of favor from the reigning monarch. Prince Philip was a devoted holder of the title, and his legacy will continue through the various organizations and initiatives he supported throughout his life.
A statement from Royals.uk reads: "The title will be held by Prince Edward for His Royal Highness's lifetime. 
"The Dukedom was last created for Prince Philip in 1947, upon his marriage to Princess Elizabeth, who held the title of Duchess of Edinburgh before acceding to the throne in 1952.
"The new Duke and Duchess of Edinburgh are proud to continue Prince Philip's legacy of promoting opportunities for young people of all backgrounds to reach their full potential.
Prince Edward
Prince Edward was born on March 10, 1964, at Buckingham Palace in London. He was the third child and youngest son of Queen Elizabeth II and Prince Philip, the Duke of Edinburgh. As a member of the royal family, he received a traditional education and attended private schools.
Prince Edward showed an interest in theater from a young age and pursued this interest at university. He studied at Jesus College, Cambridge, and earned a degree in history. While at university, he was also involved in drama productions and founded a theater company called Ardent Productions.
After completing his degree, Prince Edward pursued a career in entertainment. He worked as a production assistant for Andrew Lloyd Webber's Really Useful Theatre Company and later founded his own production company, Ardent Productions. He also worked as a television producer and presented several programs on British television.
In 1993, Prince Edward founded The Prince's Trust International, a charity organization that provides support to young people around the world. He remains involved with the organization to this day and has helped to raise millions of pounds for its various initiatives.
Prince Edward married Sophie Rhys-Jones, a public relations executive, in 1999. The couple has two children: Lady Louise Windsor and James, Viscount Severn. They live in Bagshot Park, Surrey, which is part of the royal family's extensive property portfolio.
As the youngest son of the Queen, Prince Edward has played a more low-key role within the royal family than his older siblings. He carries out a number of public engagements each year, but he is not considered to be a senior working member of the royal family.
In recent years, Prince Edward has taken on more responsibilities within the family. He has supported his mother and father during their various public engagements and has represented the family at several international events.
The Duke of Edinburgh
The title of Duke of Edinburgh was created in 1726 for Prince Frederick, the eldest son of King George II. Prince Frederick never ascended to the throne, however, as he died before his father. The title then lay dormant for over a century until it was revived in 1866 for Prince Alfred, the second son of Queen Victoria.
Prince Alfred was given the title as a way to acknowledge his contributions to the British Navy, as he had served as a midshipman on various ships from the age of 12. The title was also seen as a way to promote British interests in the eastern Mediterranean, as the Ottoman Empire had recently ceded the island of Crete to Greece, causing concern in British political circles.
The title of Duke of Edinburgh is one of the highest-ranking titles in British peerage. It is given only to members of the royal family who are close to the monarch, and it is often seen as a sign of favor from the reigning monarch.
In addition to its prestige, the title of Duke of Edinburgh is also associated with a number of charitable organizations and causes. Prince Philip, for example, established the Duke of Edinburgh's Award in 1956, which encourages young people to develop new skills and undertake outdoor activities. The award is now available in over 140 countries worldwide.
Prince Philip was given the title of Duke of Edinburgh in 1947 when he married Princess Elizabeth (now Queen Elizabeth II). Since then, he has been a stalwart of the British royal family, supporting his wife in her official duties and undertaking his own engagements in support of various charities and organizations.
In 2017, it was announced that Prince Philip would be retiring from public duties, but he continued to attend some events with the Queen until his death in April 2021. At that time, the title of Duke of Edinburgh passed to his eldest son, Prince Charles, who is King Charles, following the death of Her Royal Majesty, Queen Elizabeth II.
A timeline of the British Royal title, the Duke of Edinburgh
1726: Prince Frederick, eldest son of King George II
1764: Prince William, brother of King George III, as part of the joint title, The Duke of Gloucester and Edinburgh
1866: Prince Alfred, second son of Queen Victoria
1947: Prince Philip, husband of Queen Elizabeth II